Residential Estate
Jackson Hole, Wyoming
Estimated completion 2006
A family estate including, a Main House, a
Guest House and recreation facilities, sited
along the Gros Ventre River facing the
Grand Teton mountain range.
Projects
Residence
Tesuque, New Mexico
Estimated completion 2005
Nestled in a wooded canyon, this two-story home features a rooftop terrace for stargazing and informal gatherings.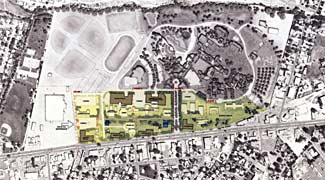 Master Plan
Entertainment and Technology Center
Santa Fe Indian School, Santa Fe, NM
Estimated completion 2005-2008
As the Santa Fe Indian School moves into new facilities, its historic WPA buildings will be upgraded and new sound stages built creating a state-of-the-art Film and Computer Graphic campus.
Guest House and Gardens
Santa Fe Historic District, Santa Fe, NM
Estimated completion 2005
A cluster of new adobe structures are being
planned to complement the existing c. 1924
Hacienda.
return to top